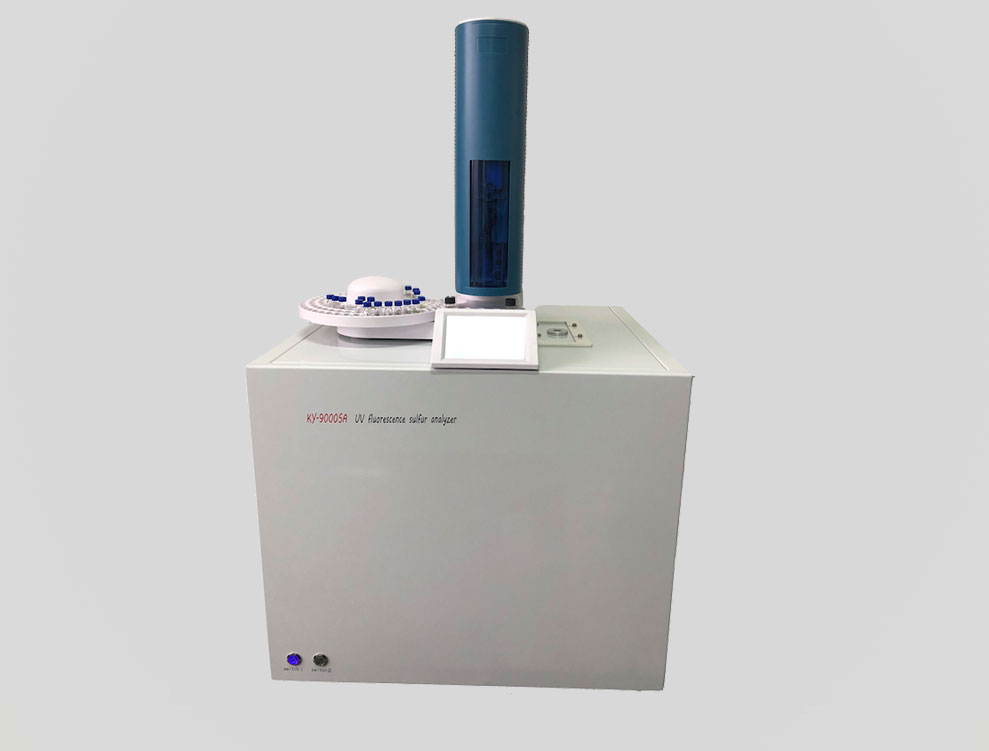 Product Name:Ultraviolet FluorescenceKY-9000S according to ASTM D5453

Determination of Total Sulfur by Ultraviolet FluorescenceKY-9000S according to ASTM D5453
Simply the Best
Ø Optimized vertical combustion combined with UV fluorescence detection for total sulfur determination
Ø Fast, sensitive and reliable analysis of widely varying sulfur contents in different types of liquid fuels, combustibles and related matrices
Ø Exceptional calibration linearity, low limit of detection, excellent repeatability and extremely stable response
Ø Compact, powerful, automated, and multi-configurable
Total Sulfur Determination complied with
ASTM D5453, EN ISO 20846,
ASTM D6667, ASTM D7183,
ISO 17198, GBT 34100-2017,
DB51/T 1689, GB/T 11060.8
Introduction
Sulfur in combustion fuels is one of the major causes of acid rain. For this reasons many countries around the world have defined regulation to control the Sulfur content in fuels for combustion engines and power plants.
The KY-9000S Ultraviolet Fluorescence spectrometer is designed to measure total sulfur content for engine oils, fuels and hydrocarbons like gases, liquids, liquefied gases and even solids . The combustion UV fluorescence is preferred method for the quantitative determination of trace sulfur in a wide variety of hydrocarbon samples due to a series of instrumental advantages linear dynamic ranges of better than 10:3; excellent stability of the system that provides for high precision analysis; conversion of all sulfur species into a common analyte (SO2) eliminating matriz effects; quantitative and fast water stripping step to reduce the most important quenching source; unsurpassed signal to noise ratios, major contributor to the very low limits of detection achievable by this technique.
The ASTM D 5453 describes the method to determine the Total Sulfur content in a range of 1 to 8,000 ppm in process feeds, half-products and finished products .
The KY-9000S analyzer possesses all instrumental properties to guarantee fast, reliable and accurate results according to the ASTM D5453 method . Based on these characteristics the system meets with great ease the precision and accuracy qualifying it to report S contents.
SPECIFICATIONS
Analytical Specifications
Sample Introduction

Syringe Liquid Module

Principle

Combustion and fluorescent UV analysis

Target

Sulfur

Working Range

0.05 – 10,000 mg/kg

Accuracy

Standard deviation <= 0.2 ppm (at 15 ppm)

Standard deviation <= 0.5 ppm (at 30 ppm)

Quantity of Sample

5 – 100 uL

Sample Tray

156 Positions or 19 positions

Gases

High Purity Oxygen (better than 99.99%)

High Purity Argon (better than 99.99%)

Repeatability

1.0 mg/L, ±0.2 mg/L

1.0 mg/L

100 mg/L

Sulfur analysis

• LPG• Condensates• Naphtha• Diesel

• Aromatics• Natural Gas• Mineral Oil

• Gasoline• Gaseous Hydrocarbons• Jet Fuel

Standard Test Methods

ASTM D5453, EN ISO 20846, ASTM D6667, ASTM D7183, ISO 17198, GBT 34100-2017, DB51/T 1689, GB/T 11060.8
Technical Specifications
| | |
| --- | --- |
| Furnace Configuration | Dual Combustion Zone |
| Furnace Temperature | 1100 °C |
| Power | 200/220/240V AC±10%, 50/60Hz |
| Injection Volume | 0.1 uL - 250 uL |
| Sample Type | Liquid |
| Operating | 15°C to 35°C (performance guaranteed) |
| temperature | 5°C to 40°C (operation guaranteed) |
Options
Digital flow controller for gases
Constant speed liquid injector for manual injection (Both Vertical and Horizontal available )
Certified calibration standards
AUTO SAMPLER (OPTIONAL)
SPECIFICATIONS
| | |
| --- | --- |
| Model: | 3016A or 3117 |
| Injector size | 1, 5,10,25,50,100,250,500 (μl) |
| Digit of sample tray | 15-digit sample tray. 156-digit sample tray |
| Digit of sample vial | 15-20 (extend to 156) |
| Sample injection times of each line | 1 to 99 times |
| Minimum sample size | 0.1μl |
| Maximum sample size | 250μl |
| Viscosity delay | 0 ~ 60s |
| Needle speed | fast, slow, user-defined |
| Injection speed | fast, slow, user-defined |
| Methods | 1-20 |
| Connection port | MODBUS protocol and USB |