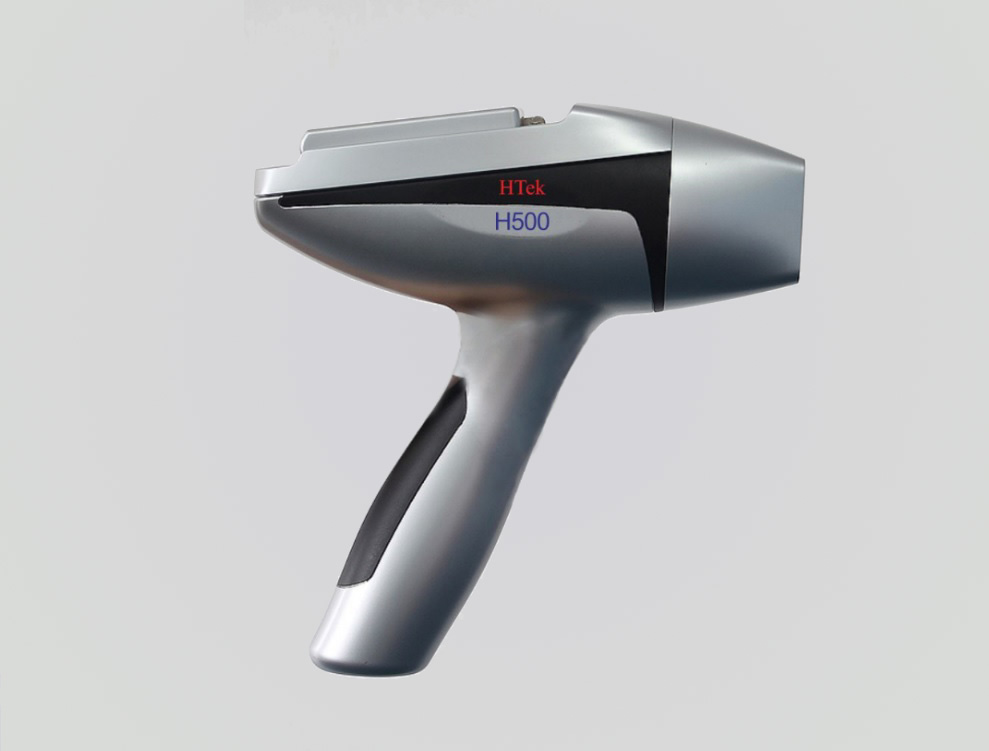 Product Name:HANDHELD XRF ANALYSER H500

>Introduction
The field of X-ray fluorescence (XRF) spectroscopy is challenging and exciting. With advantages such as easy sample preparation, nondestructive rapid multi-element analysis, and the ability to screen unknowns in a wide array of sample matrices such as liquids, solids, slurries, powders, pastes, thin films, air filters, and many others; XRF offers a perfect complement to other types of analytical equipment found in the analytical lab.
Energy Dispersive X-ray Fluorescence (ED-XRF) spectroscopy is one of the simplest, most accurate and economical analytical methods for the determination of the chemical composition of many types of materials. The technique, requires minimum if any sample preparation, and is suitable for almost all sample types and shapes (solids, liquids, powders and thin films). In addition to elemental analysis, xrf may be used to measure the thickness and composition of multi-layer thin films.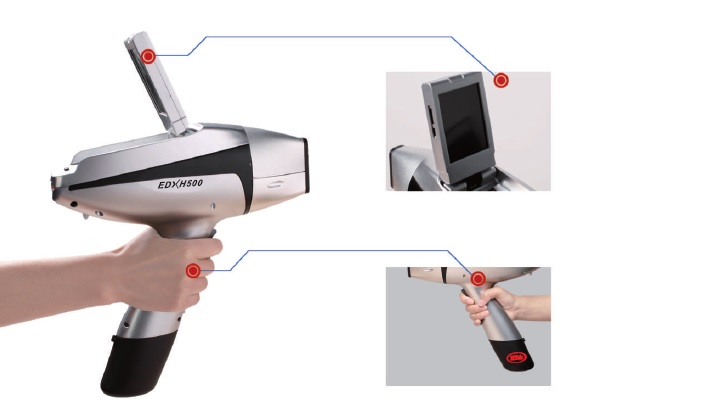 Specifications
1. Analysis method: ED-XRF
2. Detector: 25mm2 , 0.3mil,SDD, good energy resolution down to 129eV
3. Excitation source: 50KV/100uA miniature Ag-target and end-window integrated X-ray tube
4. Elemental range: all elements from Mg to U (Helium purge optional)
5. Measurement time: 3-60 second
6. Sample type: solid, liquid, powder
7. Detection limits: down to ppm level
8. Concentration range: 1ppm~99.99%
9. Calibration method: Au
10. CPU: 667MHz
11. Memory: 256M, support external extension of maximum 32G, (standard configuration: 2G TF card)
12. Data Safety: administrator mode with password protection, manage data easily
13. Ambient humidity: ≤90%
>Application Fields
Mineral Soil and Geology
HTEK INSTRUMENT advanced ED-XRF spectrometers provide on-site quantitative analysis of mining products, thereby reducing the time for receiving results from days to seconds, compared to time consuming laboratory analysis. Materials recovered by mining, minerals or other geological materials that originate from the earth consist of all kinds of base metals - precious metals, iron, uranium, coal, diamonds, limestone, oil shale, rock salt and potash - all of which can be efficiently analyzed by HTEK INSTRUMENT outstanding ED-XRF analyzers.
Numerous regulations limit the amount of toxic compounds and metals that are permitted to be released into the atmosphere. HTEK INSTRUMENT provides innovative solutions to help customers to monitor emissions of gases and safe handling of soils and sediments in their production. From sample preparation to comprehensive analysis, we help customers to generate accurate data for making smart environmental decisions.
HTEK INSTRUMENT ED-XRF spectrometers form the ultimate technique and systems for routine qualitative and quantitative analytical determinations of mining and minerals materials, with very low operational costs and no need for time consuming sample preparations.
HTEK INSTRUMENT analyzers deliver excellent price-performance combined with outstanding low levels of detection, making them the superior choice for the mining and exploration industry. Today's advanced detectors enable easy and affordable analysis of light elements and oxides in the production lines and in the field.
Some application examples of ED-XRF based solutions include:
1.Cement is a blend of several minerals. It is critical to control the elemental composition and properties such as strength, setting, time and color. ED-XRF is being used to analyze the raw components, raw meal, clinker, and the final cement product (Na, Mg, Al, Si, S, K, Ca, and Fe in Cement, Clinker, and Raw Meal).
2.Limestone is the major component of cement, and is converted into lime. It is one of the most common minerals and ED-XRF is a popular method being used for its analysis (Na, Mg, Al, Si, K, Ca, and Fe in Lime, Limestone, and Dolomite).
3.Sand is also a component of cement, but is mainly used for producing glass. Particularly valuable for glassmaking is low iron, which forms an important sub-application (Na, Mg, Al, Si, K, Ca, and Fe in Sand and Glass).
4.Clays are used in a variety of ceramic goods, artifacts, bricks and other finished products. Monitoring Ti and Fe content is important for color control. Low cost ED-XRF devices can perform this analysis, while high-end ED-XRF instruments can measure all other major elements (Mg, Al, Si, Ca, Ti, Fe in Kaolin and other Clays).
5.Bauxite is a mineral that is high in aluminum and forms the most important source of aluminum for metal production (Al, Si, Ti, and Fe in Bauxite).
6.Phosphate rock is the major source of phosphorus used in fertilizer and phosphoric acid production. ED-XRF is commonly used to measure the rock, phosphoric acid solutions, and fertilizer (P, S, Ca, Fe in Phosphate Rock and Fertilizer).
Application Examples:
Trace element analysis of toxic heavy metals in soils and contaminated land using H500
Element

GBW07424

GBW07426

Test Value

mg/Kg

Certified Value

mg/Kg

Error

Test Value

mg/Kg

Certified Value

mg/Kg

Error

Cr

62

58

6.90%

54.8

59

-7.12%

V

70

74

-5.41%

87

86

1.16%

Mn

694

681

1.91%

782

774

1.03%

Ni

23.5

26

-9.62%

30

32

-6.25%

Cu

17.6

19

-7.37%

26.3

29

-9.31%

Zn

56.4

60

-6.00%

75

78

-3.85%

AS

8.13

8.9

-8.65%

11.2

12.2

-8.20%

Cd

0.4

0.105

280.95%

0.3

0.15

100.00%

Sb

1.64

0.94

74.47%

1.01

1.17

-13.68%

Pb

20.3

22

-7.73%

20

19

5.26%

Sn

2.48

3.4

-27.06%

3.6

2.8

28.57%

Element

GBW07428

GBW07429

Test Value

mg/Kg

Certified Value

mg/Kg

Error

Test Value

mg/Kg

Certified Value

mg/Kg

Error

Cr

74.2

70

6.00%

85.2

87

-2.07%

V

83.2

86

-3.26%

124.3

119

4.45%

Mn

682

688

-0.87%

952.3

963

-1.11%

Ni

30.5

33

-7.58%

43.5

41

6.10%

Cu

28.4

27.4

3.65%

35.4

37

-4.32%

Zn

94

96

-2.08%

92.8

94

-1.28%

AS

5.8

6.5

-10.77%

22.8

21.7

5.07%

Cd

0.43

0.2

115.00%

0.4

0.21

90.48%

Sb

1.5

0.81

85.19%

2.5

1.9

31.58%

Pb

29.7

31

-4.19%

36.4

38

-4.21%

Sn

2.4